Includes:
 design brief, mood-board inspiration, concept context, user profile
Includes:
  exploratory sketches, renderings, and prototypes
Exploring concept representations in physical features, forms and abstract elements
Experiment with pattern cutting, last taping, and low-fidelity materials
(Plastic bag, hand stitching and cardboard)
Needed to redesign last shape completely as this last
restricted space in toe box and medial arch. Biggest concerns were to maintain shape of the upper with improved materials, and to rethink the construction method. 
Materials used: Waxed canvas scraps, Gutter Guard, Cardboard, 
Polymer based clay
 New Last allowed more defined functional shape. Plastic mesh material was too rigid and canvas was too thin and flimsy. Polymer clay allowed rapid 3D iteration on sole plate.
Materials used: Up-cycled Traffic Vest, Cotton T-Shirt Lining, Leather Scrap, Recycled Fabric, and Machine Stitching
 First experiment with machine stitching and multiple layers. Tested heel counter material using thicker leather. Needed extra material to wrap around bottom of last. Material thickness was also too uniform to provide needed support to specific areas like the toe box.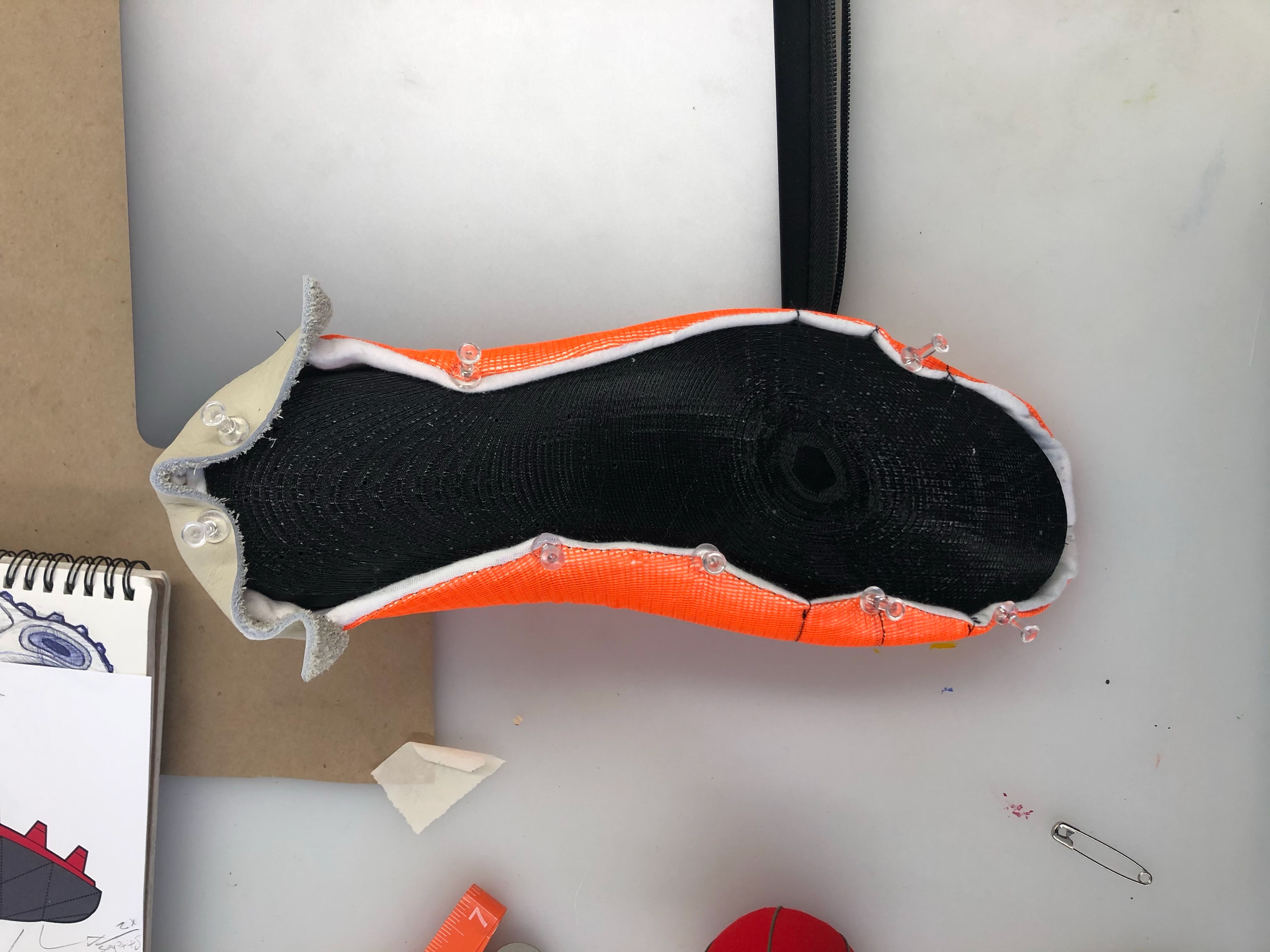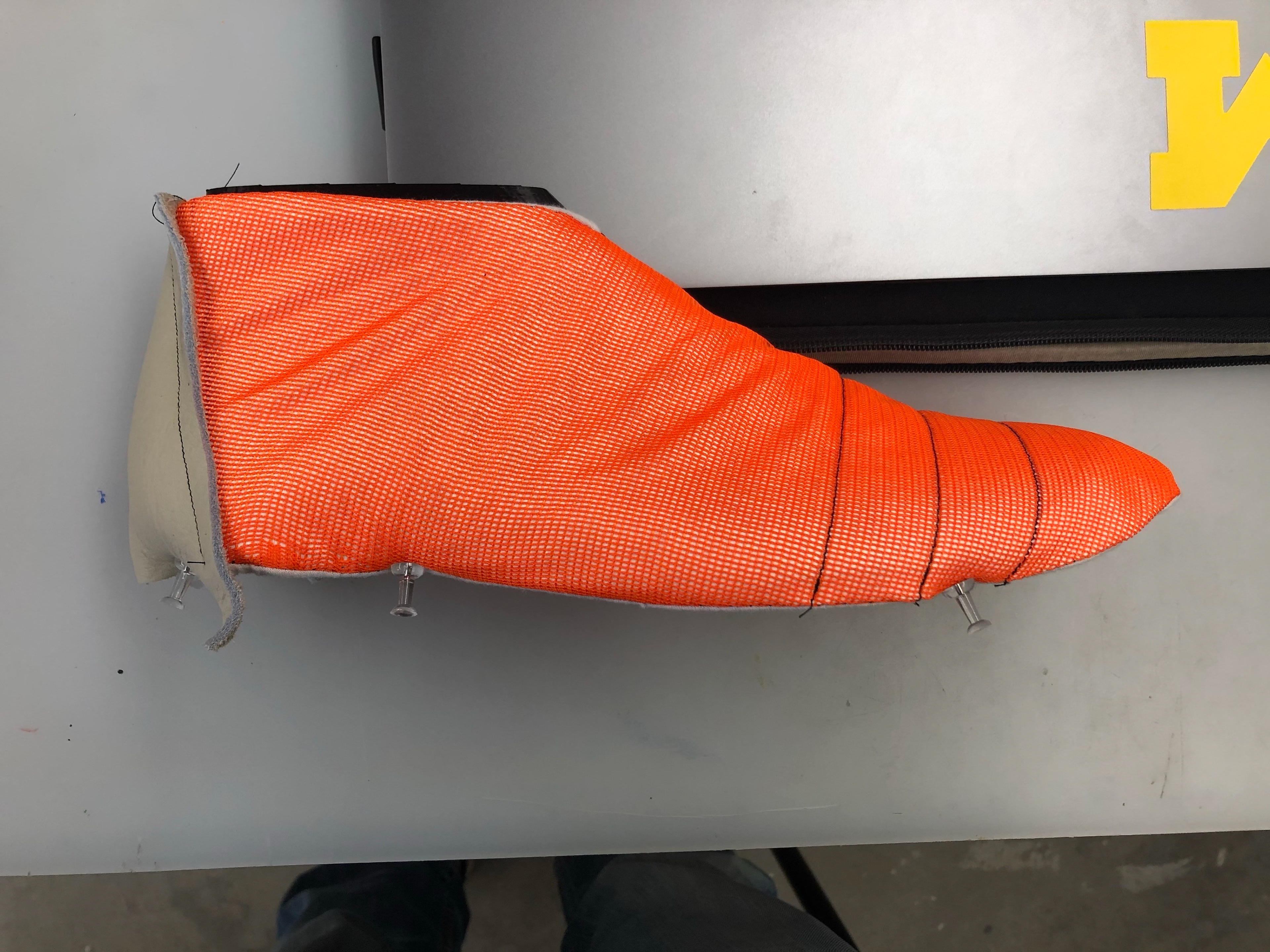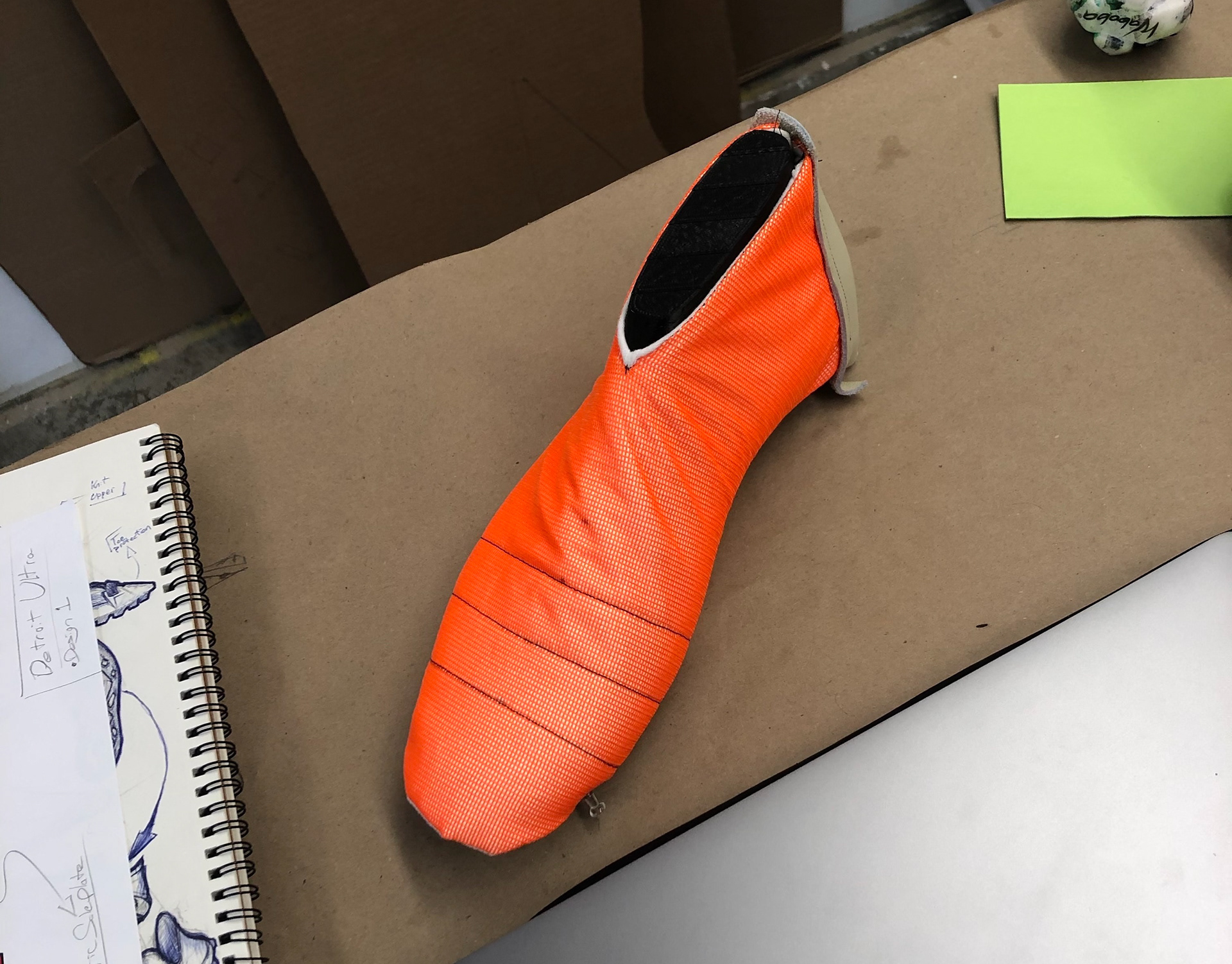 Materials used: Synthetic leather and fabric mesh taken from discarded office chair, used jacket leather lining, plastic gutter guard, nylon insole
 Experiment with combination of pieces made of different materials. Included layered patterns to increase thickness on pressure areas like forefoot flex point and heel counter. Prototype needed reinforcement in mid-foot area and more arch support to maintain shape.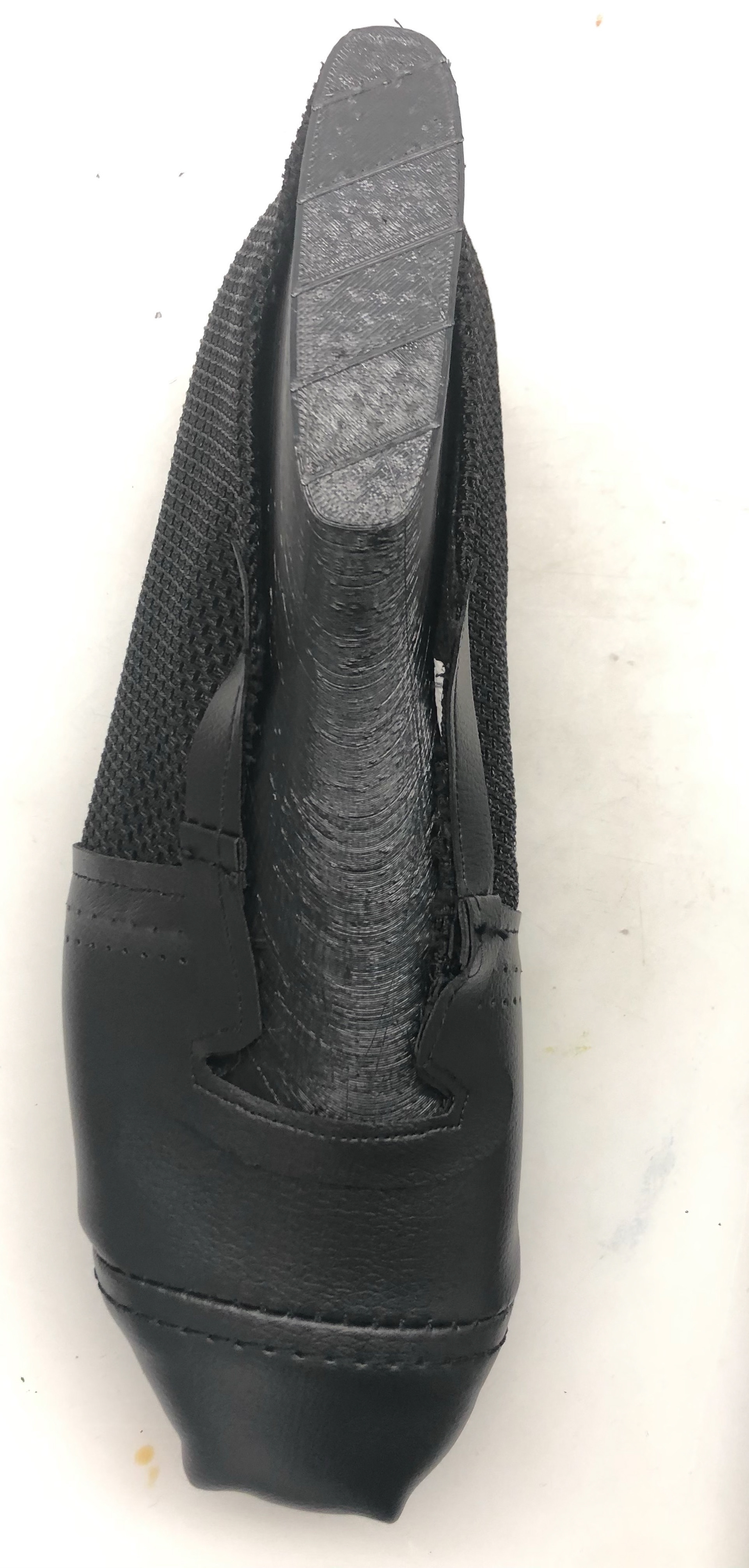 Includes:
 Technical Rendering, Final Design and Final Prototype Construction
Rendering of proportions, colorway, materials and patterns Created in Illustrator
The Detroit Ultras cleat highlights the bold, grungy, and rebellious brand of the Detroit soccer community. In soccer, ultras are a team's strongest, loudest and most raucous group of supporters.
The cleats capture this brand using materials, visual representations and construction methods tied into the design. The material choices include black chrome-tanned leather, soft suede lining and denim upcycled from used jeans, as well as cuttings from a graphic bandana. These materials are inspired by grunge fashion and traditional footwear construction. 
The yellow graphic of the bandana highlights the tongue and is a quote from a chant sung by the DCFC ultras group, NGS during games. "NO ONE LIKES US!"
There is also an abstract relief of human foot bones emerging from the sole of the shoe. This is a symbol of the rebellious nature of the NGS soccer community which incorporates bones and skulls into their match day outfit. 
"

Everyone that was firing back at us… They're like, well you're in Detroit, you're in a dead city anyways… All right you can tell us we're dead, we're going to wear skull masks all the time.

" 
(Ken Butcher - NGS Founder)
The construction of the shoe was designed to incorporate comfort, durability, and style. Leather was chosen as the main material for the forefoot due to its ability to mold to the foot over time, while denim was picked for comfort and stretching. The combination of the two creates an interesting texture contrast that is comfortable and durable. The yellow highlights of the stitching details, graphics and soleplate stand out from the black base as bold contrasting elements.